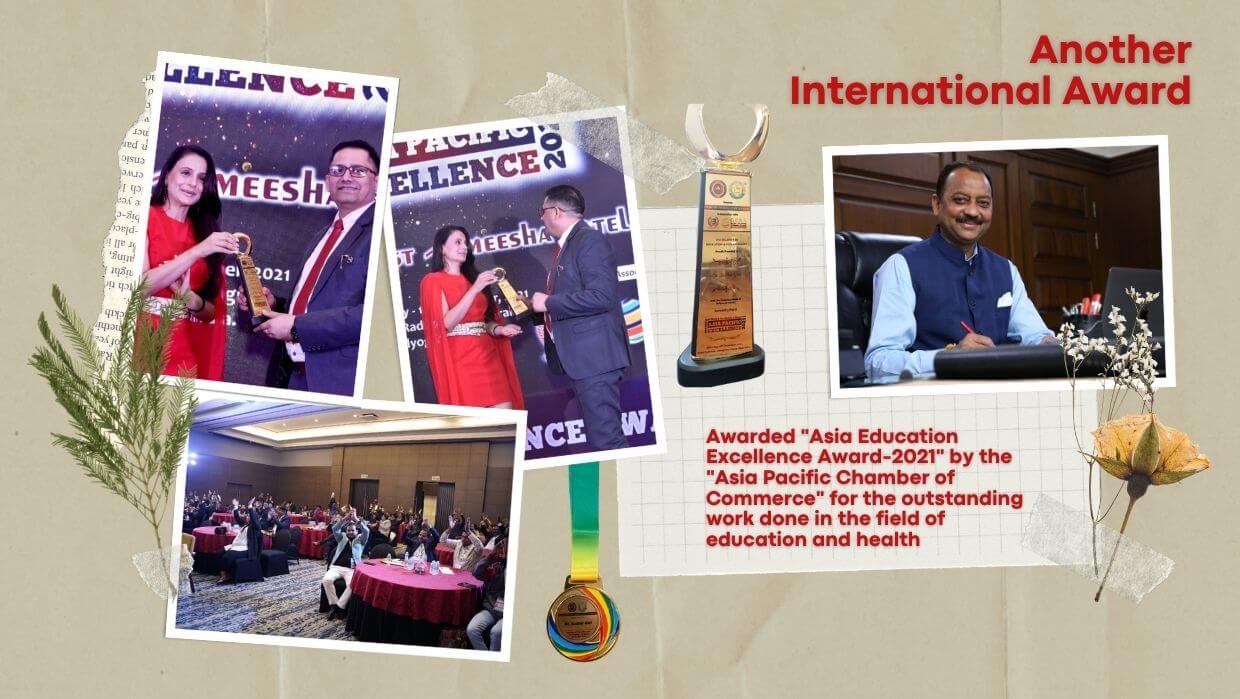 "Asia Pacific Excellence Award 2021"
Dr Sudhir Giri Chairman Venkateshwara Group receives another International award 'Asia Pacific Excellence Award 2021' for doing outstanding work in education & health.
In the presence of over 150 delegates from 16 Asian countries, diplomats, & industry personalities, Bollywood actress Amisha Patel & Chairman of Asia Chamber of Commerce, Dr Rakesh Mittal honored Dr Giri with a memento & gold medal.
In the absence of Dr Giri, Dr Rajiv Tyagi Pro-chancellor of the university received the award.
Dr Giri dedicated this award to the entire team of educators, Doctors, Nursing & paramedical staff of the university for their relentless efforts.
They organized the event at Radisson, a five-star hotel in Gurgaon. Dr Rakesh Mittal Chairman Asia Chamber of Commerce, Bollywood actress Ameesha Patel, Russian diplomat Jenif Gorbachev, Malaysian Detain Victor, Anirudh Arora, Sri Lankan Vijay DE Silva & others inaugurated the event by lighting a lamp to Goddess Saraswati.
Ameesha Patel commended Venkateshwara Group for adopting innovative teaching practices & saving the lives of thousands during Corona & praised its valuable contribution.
She highlighted that Venkateshwara Group along with Sonu Sood & other voluntary organizations treated over 6000 patients free of the cost & saved their lives.
During these odd times, the innovative education offered by Dr Giri is applaudable & worth praising. Dr Giri is the true recipient of this award, she said.
Dr Giri is on a mission to offer affordable education & healthcare for all by adopting innovative methods because these foster experiential learning crucial for success.
From a humble beginning in the rural hamlets of Meerut, Dr Giri led Venkateshwara Group to be among the leading education groups of the country that fosters research oriented education.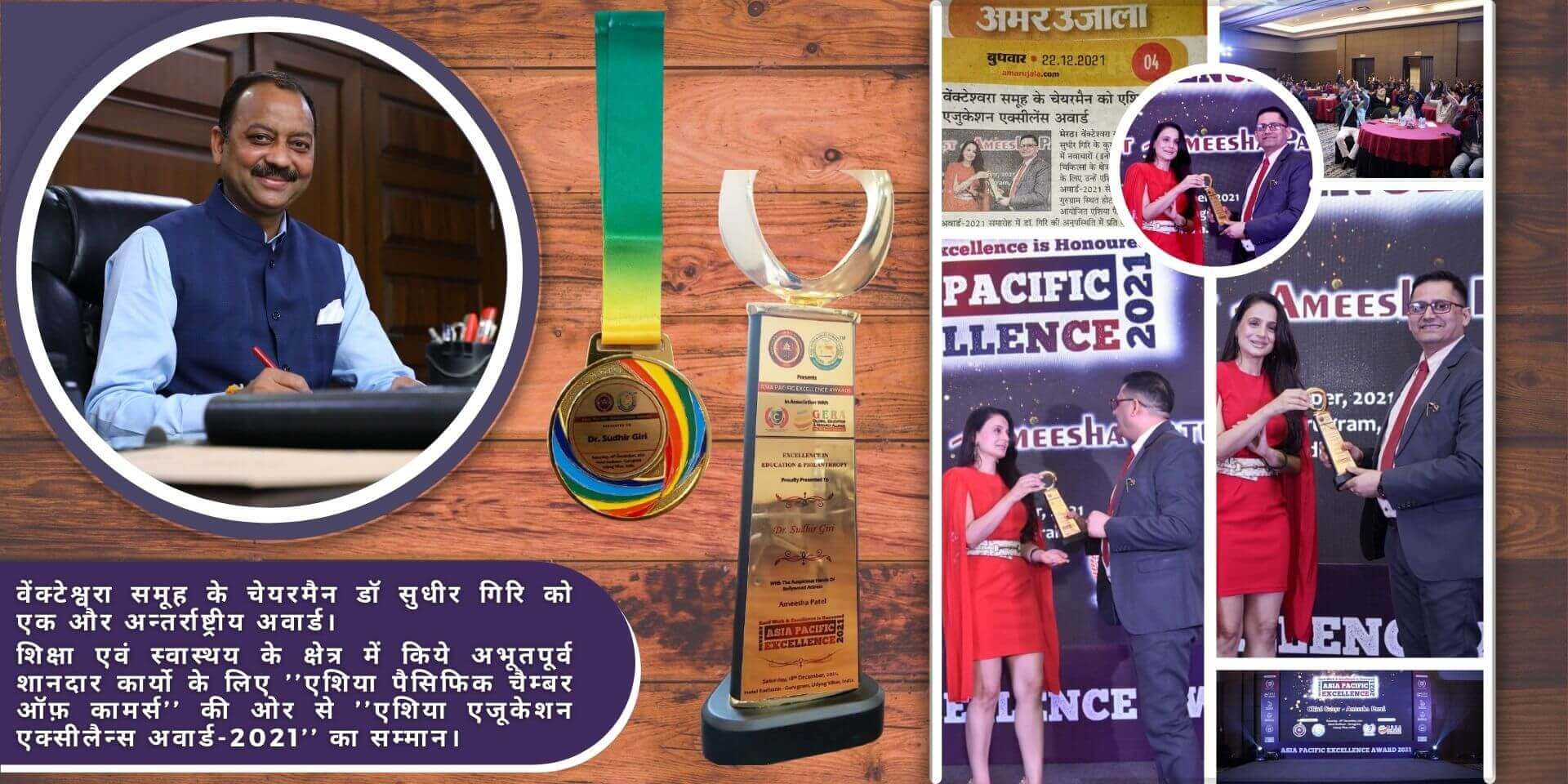 Dr Giri runs over a dozen educational institutions that includes universities, medical colleges & a world school. He works for the welfare of humanity by offering skilled education at minimal cost.
Dr Sudhir Giri, an engineer, knows the hardships students face while pursuing quality education. Originally from a rural hamlet, he strives to offer quality education at affordable cost.
Over the years, Dr Sudhir Giri has educated over 5, 00,000 youth & helped them realize their dreams.
These & many other awards are a testimony to his efforts to make India the economic power of the world.
Dr.Sudhir Giri is a philanthropist to the core and goes out of the way to help the needy persons.
Today, under his dynamic leadership, thousands of students are getting a quality education in his esteemed institution/universities.
Dr. Sudhir Giri has an energetic spirit. He is aggressive and passionate in his style of working, vigorous in pursuing VGI objectives and puts his energy and resources to work until he achieves the goal.
He a person of ideas, innovations and thought process converting them into reality.
He is courageous and works with utmost passion, honesty, dedication and integrity.
Dr Giri gives due respect to all others around him possessing similar attitude. A deep thinker and continuous learner made him a great educationist.
Dr. Sudhir Giri works with determination, dedication, and devotion, to make the dream of "VASUDHEVA KUTUMBHKAM" come true.
A firm believer in team work ensures the involvement of all members in the process of decision making and taking the education into the next level.
He takes up assignments with great enthusiasm and shoulders responsibility for the outcome of all decisions.
Dr Giri loves to work with the young generation to help them emerge as confident and self-reliant citizens of India.
He is a great promoter of science, literature, music, drama, fine arts, for the preservation of cultural heritage and historical monuments.
Extremely kindhearted and compassionate, Dr Giri is extremely considerate and ever willing to undertake any measures which will contribute towards the upliftment of downtrodden.
He is empathetic and a patient listener.
Dr. Giri improves the learning based on a personal engagement with students and staff through high-quality research-oriented teaching and learning.
He promotes an internationalized culture and innovation across the communities by working with employees & staff.
Under his dynamic leadership, Venkateshwara group created its own goodwill and reputation by serving thousands of students and imparting them knowledge, development of their skills, building entrepreneurs.

Subscribe to Newsletter