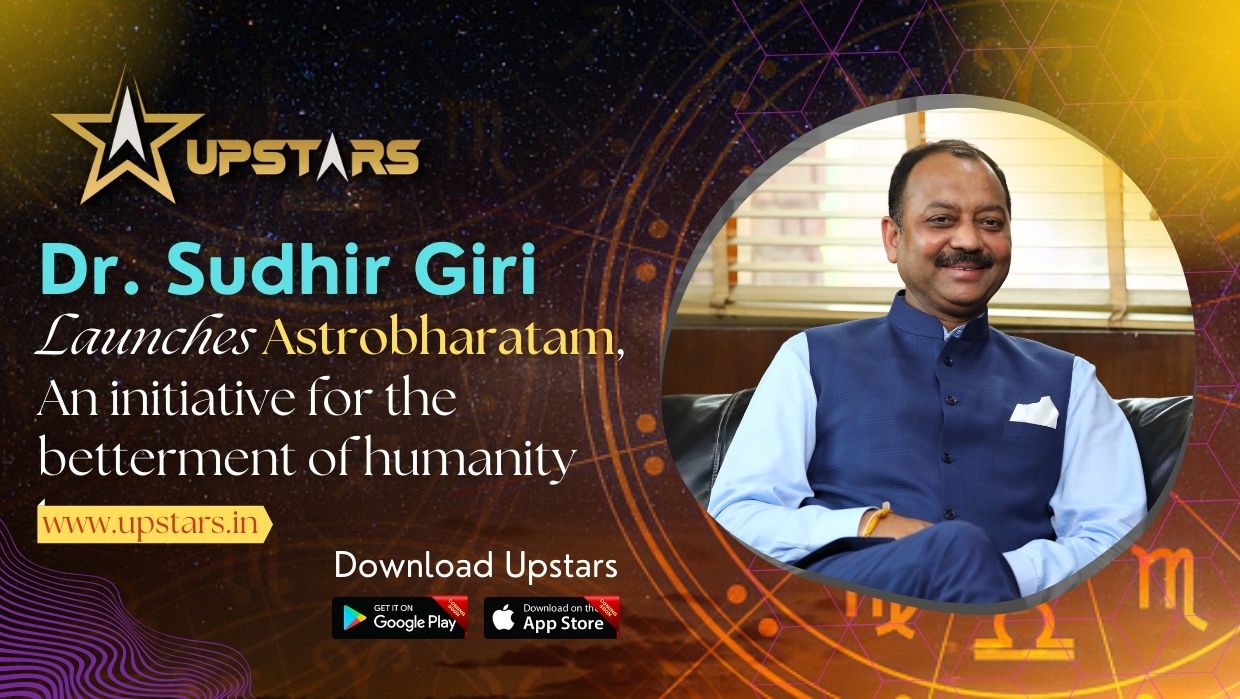 Dr. Sudhir Giri Launches Astrobharatam, an Initiative for The Betterment of Humanity
After leaving a remarkable mark in the pedagogical field, the pioneer and one of the youngest edupreneurs Dr. Sudhir Giri has now ventured into a unique domain Astrology. Dr. Giri has always had a very unique thought process, when it comes to the betterment of society, he has been doing every possible effort, be it providing healthcare facilities to the underprivileged or offering quality education to the multitude, Dr. Giri has been working tirelessly. He has been serving the mankind for over 25 years and plans on delving into various other areas to be able to help people as much as possible.
As the lifestyle and routines of the common man have become extremely hectic adding to the stress levels and anxiety of individuals, on observing it closely he understood that the main reason for stress was "shortage of time and correct guidance", the world is running in a rat race and everyone wants to achieve everything in a very short time span, that leads to many other problems and dissatisfaction. People work hard, yet fail to achieve their goals or always have disharmony on their personal front even after doing their best to keep things smooth in their lives.
Dr. Giri, a staunch believer of tradition and deeply connected to his roots decided to club tradition with technology and came up with Astrobharatam an application that brings together, highly intellectual and experienced Astrologers and Jyotish Shastra experts from all around the globe. These days there are a huge number of people claiming to be expert astrologers, and a lot of fraudulent activities are also common in this field. Dr Sudhir Giri focused on this very point and helped genuine and capable Astro experts to get a platform where they can make use of their knowledge to rid someone of their sufferings.
Astrobharatam is a one-stop solution to every kind of problem, in these modern times, it is not easy to come across authentic astrology practitioners, especially in India where astrology is a very conventional practice. With the use of this App, individuals can get in touch with an authentic and certified astrologer from the comfort of their home or workplace, enabling them to save time and energy.
These guides are skilled and seasoned Jyotish experts who can provide consultations through various mediums like video calls, chat, telephonic calls, etc. the provision of handwritten kundali making is also available on the app, for all the people who prefer going the traditional way. A number of benefits are there for the service providers as well, they get a chance to get advertised without paying any extra charges as well as build a huge network of fellow practitioners and clients across the globe, as this app will be functioning not just on a national but on an international level.
Through this initiative, Dr. Giri aims at bringing about a change in the lives of the service providers, by giving them an authentic medium to connect with a huge clientele, Astrobharatam is also equipped with an e-commerce section that suffices the need for every commodity recommended by the astrologers. Dr Giri hopes to make a difference in every life he touches, be it through education, healthcare, or any other domain. His whole and sole purpose always remains the same; serving mankind.

Subscribe to Newsletter