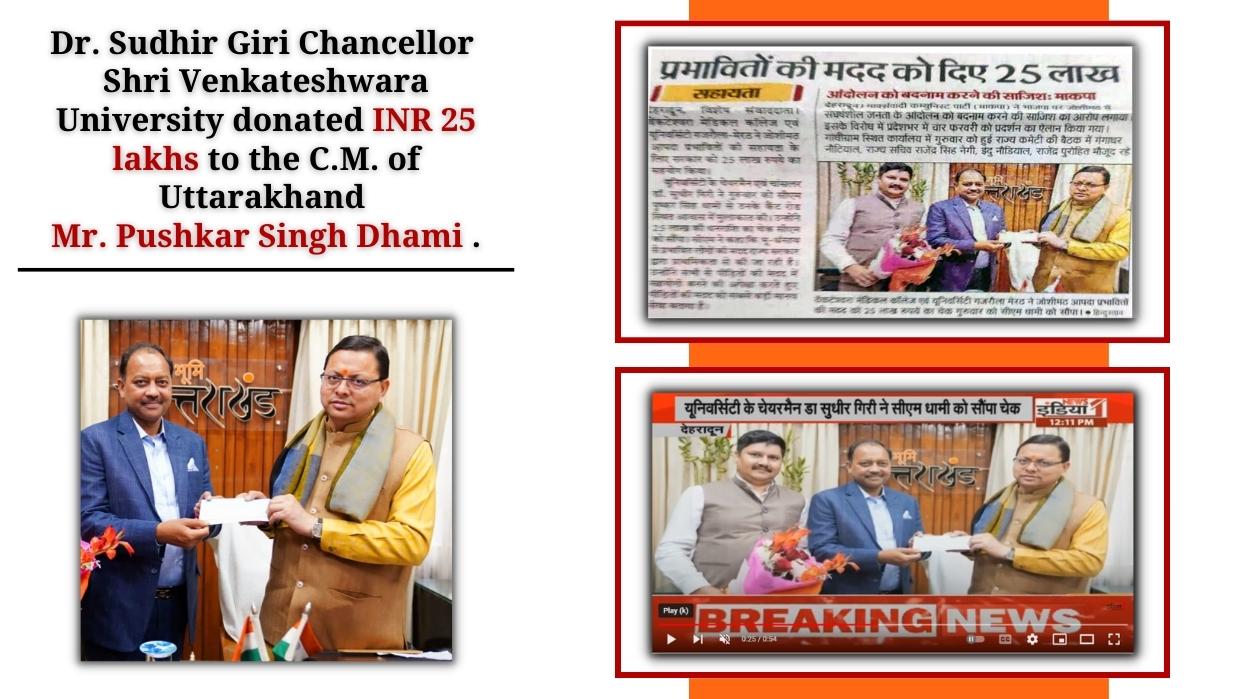 Dr Sudhir Giri Chancellor Shri Venkateshwara University handed over a cheque of INR 25 lakhs to the Chief Minister of Uttarakhand Mr Pushkar Singh Dhami for helping the tragedy stricken residents of Joshimath.
Dr Sudhir Giri Chancellor of Shri Venkateshwara University donated INR 25 lakhs for helping the tragedy stricken residents of Joshimath.
On Thursday, Dr. Sudhir Giri met the Chief Minister of Uttarakhand Mr. Pushkar Singh Dhami at his Cantt road residence & handed over a cheque for INR 25 lakhs.
The CM thanked Dr. Sudhir GiriDr Sudhir Giri for his generous contribution & urged people to help the tragedy stricken people of Joshimath.
He reiterated the rehabilitation of Joshimath residents is the top priority of the state Government & such gestures are commendable.
Dr Sudhir Giri, an educationist & philanthropist, is involved in helping the needy & weaker sections of the society.
He worked relentlessly during Covid times & cured over 5000 patients & recorded the lowest deaths in the country.
Dr Sudhir Giri used the facilities at their flagship hospital VIMS & pressed his team of Doctors & healthcare workers to serve the patients day & night.
The UP Government conferred upon him the prestigious 'Excellence Health care Award' for doing excellent work during Corona. At an event in Lucknow, Dr Suresh Khanna UP Cabinet Minister felicitated Dr Giri with the Excellence award & a citation.
Further, he adopted innovative teaching practices so that the studies of the students are not affected & the faculty completes the syllabus on time.
The Asian Chamber of Commerce lauded the efforts of Dr Sudhir Giri to provide free of cost medical services during Corona & for adopting innovative teaching practices.
For these momentous efforts, Dr Sudhir Giri received the Asia Education Excellence Award 2021.
Dr Sudhir Giri has climbed the ladder of success through sincere hard work & reckons the hardships faced by rural youth in getting educated.
He supports the meritorious students through a series of scholarships so that they realize their professional aspirations.
He offers scholarships to the wards of Defence Personnel, girl students & to the differently abled. To nurture sporting talent for the country, Dr. Sudhir Giri offers scholarships to the sports persons.
A dedicated Jan Kalyan Department assists the students to avail a scholarship. Till date over 500000 youth have realized their professional dreams because he promote affordable education & healthcare for all.

Subscribe to Newsletter