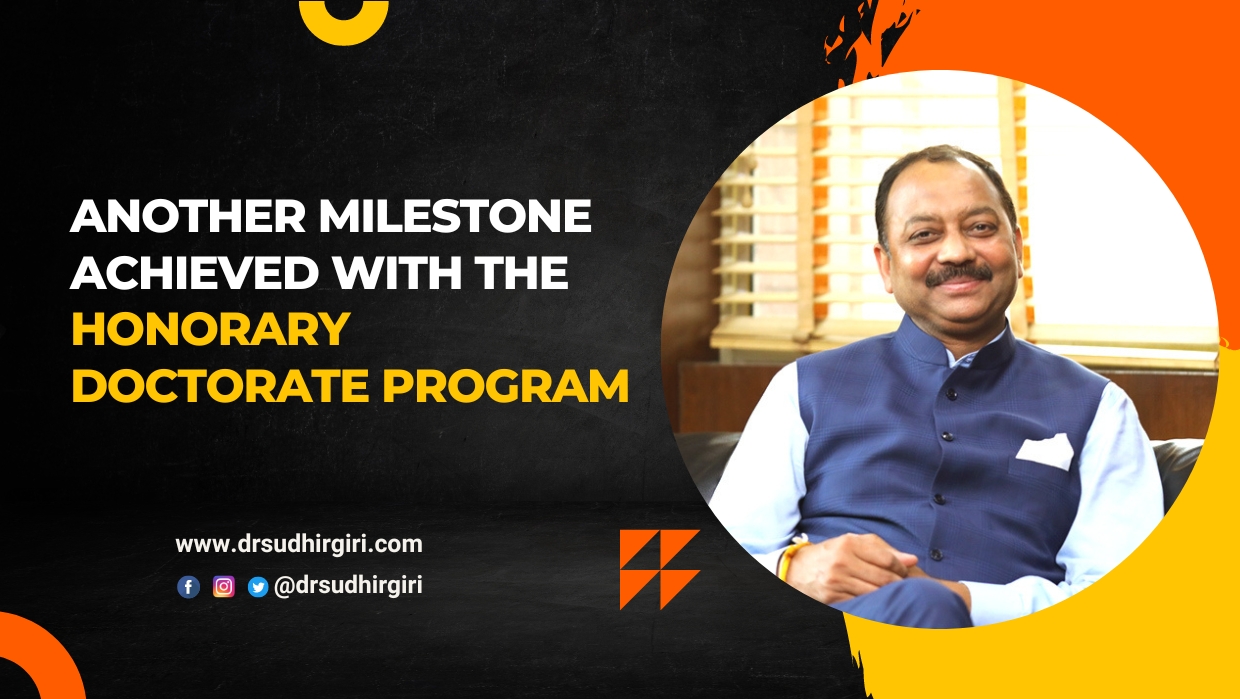 ANOTHER MILESTONE ACHIEVED WITH THE HONORARY DOCTORATE PROGRAM
Shri Venkateshwara University, Gajraula has been a leading name in the education sector. With the industry-leading undergraduate, postgraduate, and doctorate programs designed under Dr. Giri's direction, Shri Venkateshwara University has grown to become one of the best universities in Uttar Pradesh. Dr. Sudhir's philosophy is very dynamic when it comes to betterment and growth. He aims at reaching the zenith of any endeavor he undertakes. Shri Venkateshwara University has shown rapid growth in the field of education, with the constant support and guidance provided by Dr. Giri. After successfully running one of the most prestigious programs like Ph.D., Shri Venkateshwara University has now introduced the Honorary Doctorate Program, under which renowned personalities who have made outstanding contributions in different fields are awarded.
An Honorary Degree is an esteemed title that an institute or body awards a person. This title is a mark of high esteem and prestige and is only granted to individuals who have made a significant contribution to the development of society, in philanthropic, social, political, or cultural domains. The receiver of this title need not have any prior connection with the granting academic institution.
Dr. Sudhir Giri, the honorable Chairman of the Venkateshwara Group of Institutions has received a myriad of awards and laurels himself, some of which include:
"The Legend of Uttar Pradesh Award 2022", "International Brilliance award- Educationist of the year 2022", "International Award-The Most Trusted University Award 2022", "Asia Pacific Excellence Award 2021", "International Glory Man of the Year Award 2021", "Real Hero in Education Industry", "Sarvepalli Radhakrishnan Shishak Award 2020", "Centre for Education Growth and Research- Best University for Industry Interface 2018".
He values and acknowledges the efforts and exceptional accomplishments of individuals in various fields, he gives special emphasis to research-based programs and makes sure that all the required amenities and facilities are provided to scholars, in order to honor dignitaries and pioneers, he has introduced the Honorary Doctorate Program in Shri Venkateshwara University. Honorary Doctorates are not attained through academic successes, they are received on the basis of generous and humanitarian actions, outstanding discoveries, revolutionary movements, groundbreaking research, or lifetime endeavors that benefit a community, nation, or mankind as a whole.
The convocation ceremony of the Honorary Doctorate Program will be held in the magnificent Arabian city of Dubai. Dr. Giri is an appreciator of quality and settles for nothing but the best, hence, the location for the ceremony has also been picked very thoughtfully, keeping the prestige of this program in mind. With the introduction of this program, Shri Venkateshwara University aims to recognize and award numerous renowned individuals as it would act as a mark of great honor for not just that individual but also for the university as a grantor. The Honorary Doctorate degrees are being offered in the following domains:
Doctor of Public Administration: Conferred to public servants, and politicians that have made a positive impact on humanity through good governance.
Doctor of International Business Management: Awarded to successful entrepreneurs.
Doctor of Humane Letters: Acknowledging academic distinction.
Doctor of Fine Arts: Granted majorly to actors, architects, and artists.
Doctor of Law: Awarded to professionals in the field of law.
Doctor of Medical Sciences: In recognition of revolutionary scientific research and discovery.
Doctor of Divinity: To honor exceptional religious figures.
Doctor of Journalism and Mass Communication: Awarded to renowned media professionals.
Doctor of Information Technology: Conferred for outstanding innovations in the IT industry.
Doctor of Agriculture: Presented to experts and prodigies in the Agricultural sector.
Doctor of Political Science: Granted to recognize exceptional services in the field of political sciences on a national and international level.
Doctor of Defence: Awarded to officials belonging to the Defence forces (Indian Army, Indian Air force, Indian Navy).
Doctor of Music: To honor musicians, singers, and artists with remarkable contributions to the field of music.
Doctor of Marketing: Acknowledging marketing and promotional merits.
Doctor of Computer Science: Awarded to intellects of the computer science industry.
Doctor of Yoga: Granted mainly for outstanding achievements in the field of Yoga.

Subscribe to Newsletter