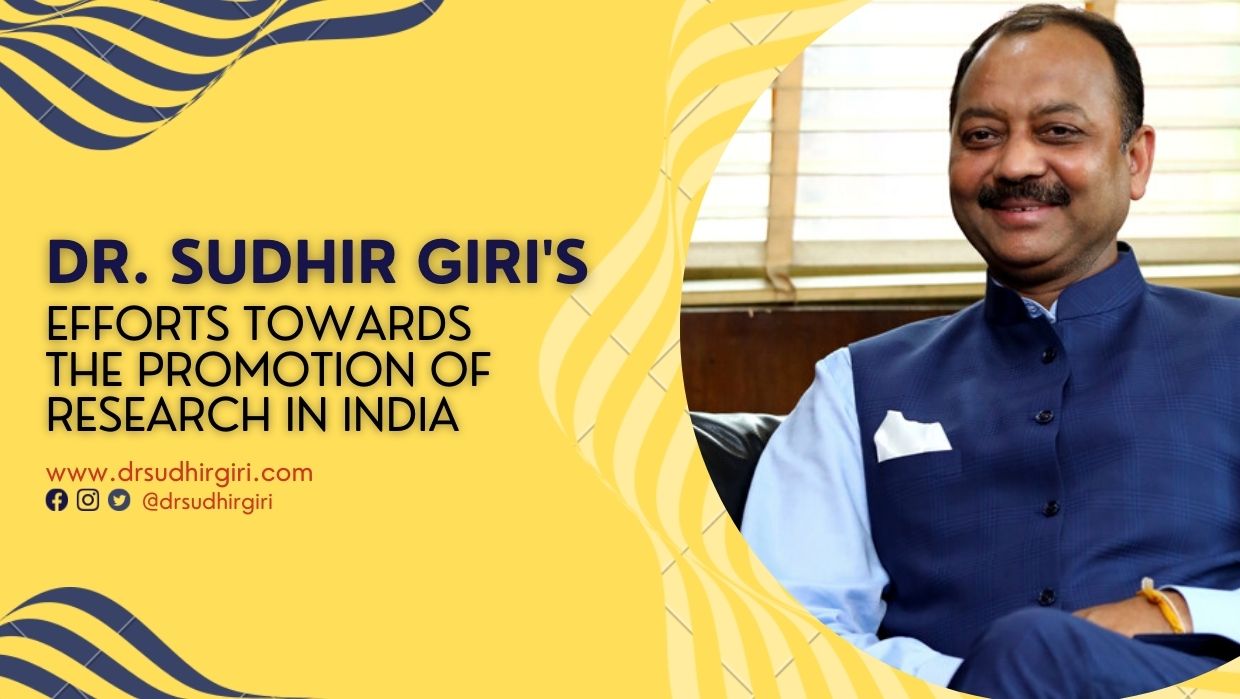 Dr. Giri's Efforts Towards The Promotion of Research in India
A visionary, educationalist, philanthropist, scholar, and revolutionary entrepreneur, Dr Sudhir Giri is a golden name in the field of education. With proven excellence in efficiently establishing and successfully running Universities, Educational Institutes, and Medical Colleges, he has tirelessly worked towards providing economical education and subsidized healthcare to the multitude and economically weaker sections of the society. He dreams of building a world where education and healthcare will not be restricted to just the financially strong sectors. Dr. Giri is a highly educated and intellectual personality, he is an engineer with a BBA from Vinayaka Mission University, Tamil Nadu. Sir received his MBA degree from EIILM University Sikkim, India in 2011 and Doctor of Literature (Honoris Causa) from Desh Bhagat University, Punjab in 2015.
Dr. Giri proved that one can achieve anything if one puts their heart and soul into it. Without having any special facilities or contacts, Dr. Sudhir Giri made his place in the business world. He believed firmly in his goal of bringing about a revolution in the educational industry and also made it happen. Along with primary and higher education, he has paid immense attention to research. Research and development are vital for the growth and progress of any organization or industry and the country on the whole, and Dr Giri firmly supports this notion. He also believes that in developing nations, where there is a gap in the higher education sector, but the government, as well as society, realizes and introduces policies to improve a knowledge-based economy, there is an all-around need for increased PhDs both in academia as well as the industry. Dr. Sudhir deeply feels that research is imperative for healthcare development and improvement of drugs and medicines. Along with high levels of innovation, creativity, and ability to solve complex problems, a doctoral degree, based on extensive research, enhances transferable skills like communication skills and the ability for teamwork, both of which are critical to the achievement of drug discovery programs.
He supports the fact that without research we would never be able to grow. Had there been no curiosity to invent new things mankind would never have progressed so much. We wouldn't understand our strengths and weaknesses and would become stagnant. In order to provide unmatched education at the Doctoral level, Dr Sudhir Giri has been working tirelessly to give a global level of education to deserving and hard-working students. He wishes to see India, stand among the leading education providers, especially in the field of research, and provide world-class education at affordable prices so that the masses can benefit greatly. Hailing from a rural homestead himself, Dr. Sudhir Giri wishes to help the underprivileged communities and equip them with the necessary facilities that are required to hold quality research.
Dr. Sudhir Giri founded the Shri Venkateshwara University, in the year 2010 and has closely worked with the other officials and played a vital role in composing the university's curriculum, details of programs, and various other activities related to the academics of the university. The university has been providing ultra-modern facilities in the field of research and other programs ever since. In order to promote research Shri Venkateshwara University (SVU) offers a wide range of courses under the PhD or Doctor of Philosophy program.
Dr. Sudhir Giri has always promoted quality research and being a doctorate himself, he understands well, how important and vital research is. A Doctorate/Ph.D. degree is one of the highest degrees of learning and a sign of great prestige as it takes rigorous training and work to achieve it. He believes that a research candidate undergoes intensive training in research methods, including verbal and written methods like interviewing, surveys, questionnaires, clinical trials, and laboratory experiments that provide candidates with a specialization in their area of study, making them efficient contributors in their fields. Being the highest academic credential, this degree can help one achieve prestigious and high-paying jobs like Assistant Professors, professors, teachers, scientists, etc. Sir also believes that a PhD helps one develop highly valuable transferable skills that are generally demanded by employers, such as communication skills, etc.
Advantages of attaining doctoral education from the institutes set up under the guidance of Dr. Giri
Amenities for conducting research - The research facilities like laboratories, libraries, etc. provide an inspiring and inventive learning environment.
Industry-academia exposure - These institutes have an extensive network of industry-academia collaborations, for providing real-time exposure to candidates.
Expert research supervisors - Following the Guru Shishya method, the candidates learn under the guidance of expert mentors and guides. Guides at SVU are experts from prestigious institutes like IITs, NITs, IIMs, etc.
Affordable education - Based on Dr. Giri's vision of affordable education for all, the PhD fee structure at SVU is very student-friendly.
Dr. Giri has a strong vision to promote education and research in India, and he plans on taking up many new ventures that would help even the underprivileged classes and masses, attain top- quality education without having to compromise on their studies due to lack of funds. Sir has been working tirelessly to build and shape a society that would ensure a strong and developed nation.

Subscribe to Newsletter